Topic: Training & Professional Development
Voices of Jubilation! A community gospel choir at UMSL, located in the heart of North St. Louis County.
The First Tuesday Series features keynote speakers who share their fascinating experiences and stories of entrepreneurship.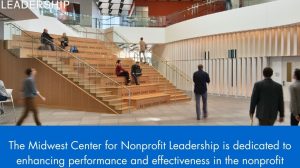 UMKC's Midwest Center for Nonprofit Leadership is an education and research enterprise that supports and enhances leadership capacity in all areas of the nonprofit community by creating opportunities for dialogue, learning, and collective action.