Topic: Rural Health
UMKC Students and Faculty Recently Explored Career Pathways in Rural Missouri.
The MU PSC Skills for Psychological Recovery for Farm/Ranch Stress program provides up to 5 free teletherapy sessions to help farmers, ranchers, and their families cope with anxiety and stress related to the challenges of farm/ranch and agricultural livelihood and lifestyle. Any Missouri farmer or rancher, or member of their immediate family is eligible for […]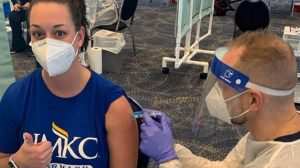 School of Pharmacy playing significant role in COVID vaccine efforts across the state.